DIRECTIONS TO RANCH IN POZO, CALIFORNIA for the San Andreas 300.
From So Cal head to San Luis Obispo, go North on Hwy 101 over Cuesta Grade.
Take Exit 211, Hwy 58 to Santa Margarita
From Nor Cal go South on 101 towards Atascadero, continue South past Atascadero on 101.
Take Exit 211 to Santa Margarita , you will be heading East. Exit 211, California 58 in Santa Margarita.
From Hwy 5 and the San Joaquin Valley you have 4 options:
From the North Take 41 or 46 to Paso Robles and Turn Left on Hwy 101 to Santa Margarita Exit 211
Hwy 58 to the 2nd Pozo Road. Do not attempt to take the first Pozo Road over Pozo Summit. Continue on Hwy 58 to the 2nd Pozo Road intersection a few Miles from Santa Margarita and turn Sharp Left on Pozo Road. Again, do NOT take the first Pozo Rd on Hwy 58 over La Panza and Pozo Summits.
From the South on Hwy 5 take Hwy 166 to Santa Maria. Turn Right on Hwy 101, thru San Luis Obispo to Santa Margarita Exit 211
DIRECTIONS FROM SANTA MARGARITA
From Exit 211 on Hwy 101, take California 58 through Santa Margarita. Drive through town, and turn right at the end of the main drag, over the railroad tracks on Hwy 58. You will now be be going east on 'Pozo Road.'
Stay on Pozo Road Past the turnoff to Hwy. 58 from Bakersfield.
From Bakersfield and and vicinity take Hwy 58 to Pozo Road and then turn Left, and follow directions below.

IMPORTANT
Do Not follow your GPS over the Mountains or take a 'Short cut'. Go to and Follow Pozo Road and these directions. Every other way will take you longer and is curvier.
Stay on Pozo road past the turnoff to Hwy. 58 from Bakersfield.
Stay on Pozo Road, and after about 3 miles you will pass the turnoff for Santa Margarita Lake.
STAY RIGHT. Continue on Pozo Road another 10 miles. You will go past the Pozo Saloon.
Go Past the Pozo Saloon.
Continue east on paved Pozo Road. The road will curve Northward a bit. Continue on the road, and keep forward at the upcoming intersection.
You don't want to go to Pozo Summit, but continue forward on Parkhill Road instead towards Turkey Flats.
The turn off to Turkey Flats will be on the right in a few miles.
Do not turn into Turkey Flats. Stay on Parkhill Road after the road to Turkey Flats, around a Left turn.
Then up and over a small hill on paved Parkhill road. About 1/4 mile down the hill on the Left you'll see a banner marking the entrance to the ranch.
875 Parkhill Road, Santa Margarita, CA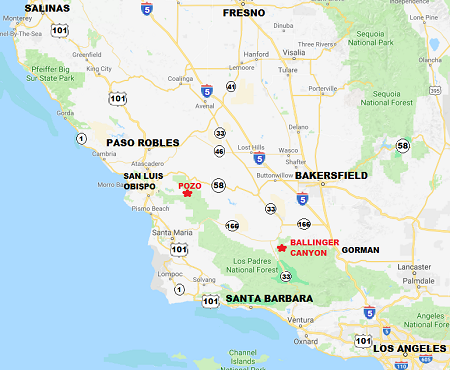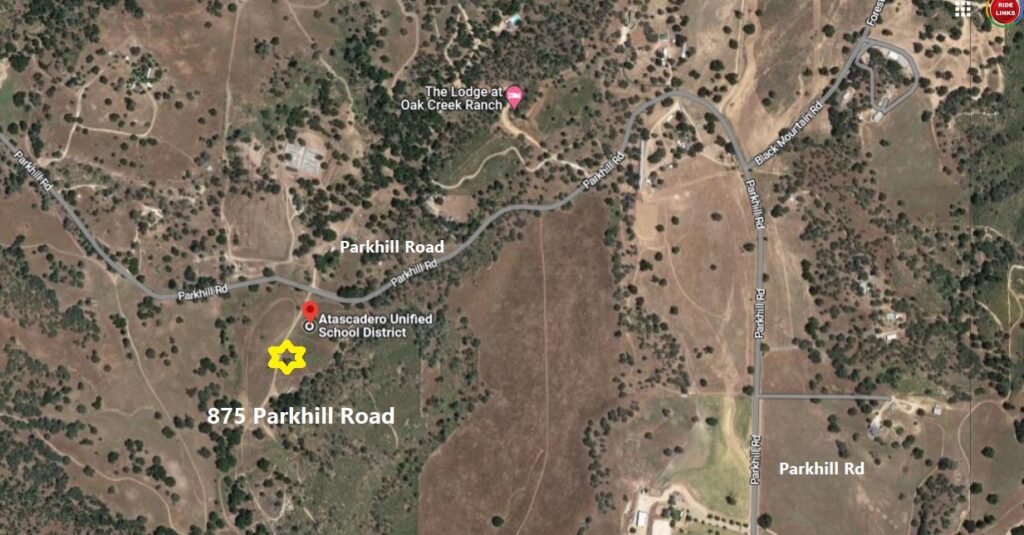 DIRECTIONS-to-RANCH-in-Pozo

Printable PDF. Directions to Ranch in Pozo (2 pages)
Or Save this LINK: https://calidualsport.com/directions-to-ranch-in-pozo/