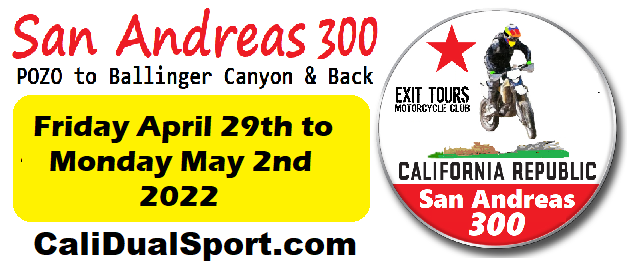 DIRECTIONS TO RANCH IN POZO, CALIFORNIA for the San Andreas 300.
From So Cal head to San Luis Obispo, go North on Hwy 101 over Cuesta Grade.
From Nor Cal go South on 101 towards Atascadero, continue South past Atascadero on 101. Take the exit to Santa Margarita , you will be heading East. Exit 211, California 58 in Santa Margarita.
DIRECTIONS FROM SANTA MARGARITA
From Exit 211 on Hwy 101, take California 58 through Santa Margarita. Drive through town, and turn right at the end of the main drag, over the railroad tracks on Hwy 58. You will now be be going east on 'Pozo Road.' Stay on Pozo road past the turnoff to Hwy. 58 from Bakersfield.
From Bakersfield and and vicinity take Hwy 58 to Pozo Road and then turn Left, and follow directions below.

IMPORTANT
Do Not follow your GPS over the Mountains or take a 'Short cut'. Go to and Follow Pozo Road and these directions. Every other way will take you longer and is curvier.
Stay on Pozo road past the turnoff to Hwy. 58 from Bakersfield.
Stay on Pozo Road, and after about 3 miles you will pass the turnoff for Santa Margarita Lake. STAY RIGHT. Continue on Pozo Road another 10 miles. You will go past the Pozo Saloon.
Go Past the Pozo Saloon.
Continue east on paved Pozo Road. The road will curve Northward a bit. Continue on the road, and keep forward at the upcoming intersection.
You don't want to go to Pozo Summit, but continue forward on Parkhill Road instead towards Turkey Flats. The turn off to Turkey Flats will be on the right in a few miles.
Do not turn into Turkey Flats. Stay on Parkhill Road after the road to Turkey Flats, around a Left turn. Then up and over a small hill on paved Parkhill road. About 1/4 mile down the hill on the Left you'll see a banner marking the entrance to the ranch.
875 Parkhill Road, Santa Margarita, CA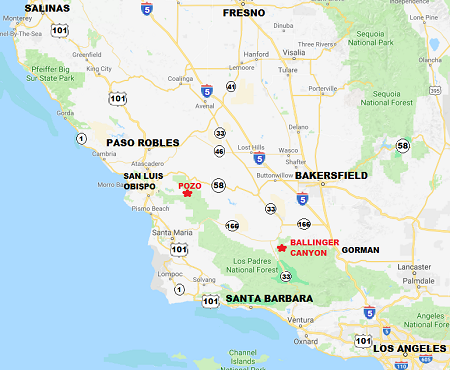 Pozo Saloon History
Pozo was founded in 1854. "Pozo"—Spanish for "well". Pozo resembles a hole-like valley surrounded by hills.
In 1881, the Post Office in Pozo was officially named.
Pozo's fledgling years were classic Wild West. In the mid-1860s, a small gold rush at nearby La Panza brought 600 people to the area, marking the town's heyday.
Businesses such as a blacksmith, barber, hotel, general store, gristmill, and a dance hall—which was Pozo Saloon's original operating model—sprang up.
There was also a school nearby, and one record claimed that in 1882, 97 school children were among the area's population of 850. Around that time the local gold rush ended and the town shrank, but travelers going north, south, and east still had to travel through Pozo.
After Highways 58 and 46 were built that made the route unnecessary, Pozo truly began to wither. New travel routes bypassing Pozo doomed the town and saloon.
Some claim Prohibition finally did the saloon in. Driven by the local temperance movement, SLO County had "gone dry" before 1920 and the 18th Amendment made alcohol illegal.
Resurrection
After being shuttered for more than 40 years, the Pozo Saloon reopened in 1967. In '61, former SLO County Sheriff-Coroner Paul E. Merrick bought a stake in the building. He was best known for presiding over the 1955 James Dean crash. Merrick bought out the principal owner in 1966, reopening the following year.
Merrick was the owner who bought the classic 12-foot bar in the saloon, which had reportedly traveled around Cape Horn in 1860 in a sailing ship and was installed in SLO's Cosmopolitan Hotel. Merrick reportedly found the bar in storage in the Santa Maria area and bought it. He added another bar to the dance hall part of the building.
At this time, Pozo Saloon was a rustic, out of the way place known for great food and cheap beer.
The modern era
In 1984, Rhonda Beanway and her husband Brian bought the place. They and their son Levi are the ones who developed the Pozo Saloon into the large-scale concert juggernaut it became.
Bringing in crowds of more than 3,000 people to see performers such as country stars Willie Nelson and Dwight Yoakum, rapper Snoop Dog, rockers .38 Special and Black Crowes, and reggae superstars Steel Pulse and Ziggy Marley.
The Beanway's were also the ones who had to fight the county to allow huge concerts, digging up historical records that proved the saloon had been a gathering place with live music since its earliest days. For instance, records show Professor Pico's String Orchestra played to a large crowd in 1899.
The county cracked down when these shows drew the ire of neighbors. Cars lined the narrow road for miles in both directions. Massive speakers rattled nearby windows.
"Our neighbors were upset, and I don't blame them," Rhonda Beanway said, "In the winter of 2005, it rained and rained, and people parking along the road made a real mess. People got stuck in the mud. They left trash along the road. After that, all hell broke loose. The complaints starting coming in."
"And on top of that, our neighbors thought we were making millions of dollars off of their inconvenience," Rhonda's son Levi Beanway said.
The Beanway's eventually worked it out by contracting neighbors to make money by parking cars in their fields, paying for heightened security, and paying for California Highway Patrol officer's to be onsite.
Other problems followed, such as crowds of 4,000-plus people at shows, and the coup de grâce, drug sales at a 4/20 concert.
The Pozo Saloon is now under new ownership and scheduled to reopen in the Spring of 2022.
DIRECTIONS-to-RANCH-in-Pozo

Printable PDF. Directions to Ranch in Pozo (2 pages)
Or Save this LINK: https://calidualsport.com/directions-to-ranch-in-pozo/