WHAT DO I NEED TO GET STARTED?
A sense of adventure and common sense
The San Andreas 300 Dual Sport & ADV ride starts Saturday morning near the staging area for the old Hi- Mountain Enduro in Pozo. From Pozo we will ride to Ballinger Canyon, site of the past Leapin' Lizard Enduro.
Friday night we will have dinner included with signing up at the Pozo Saloon.
Friday night we stay at the private ranch in Pozo where the ride will start Saturday morning.
You can show up early Friday and go for a trail ride of a loop of Pozo, a dual sport loop to Lopez Lake or Black Mountain, or for a 155 mile Adventure ride loop to Pismo Beach and end up at the Poza Saloon.
You could also do any of these loops on Monday. GPS tracks of all loops will be sent approximately 2 weeks before the ride.

Where do we stay Saturday night ?
At Sondog Ranch which is located in a small Central California valley by the name of Cuyama at the base of Ballinger Canyon.
The valley is a half day journey from either the Los Angeles basin or the Bay area, yet, it is far enough from everywhere that it is often referred to as nowhere.
Songdog Ranch is not a dude ranch. It is a secluded rustic get away for the 'real' adventurous.

The only things ever raised at Songdog is wine or beers in the light of campfires.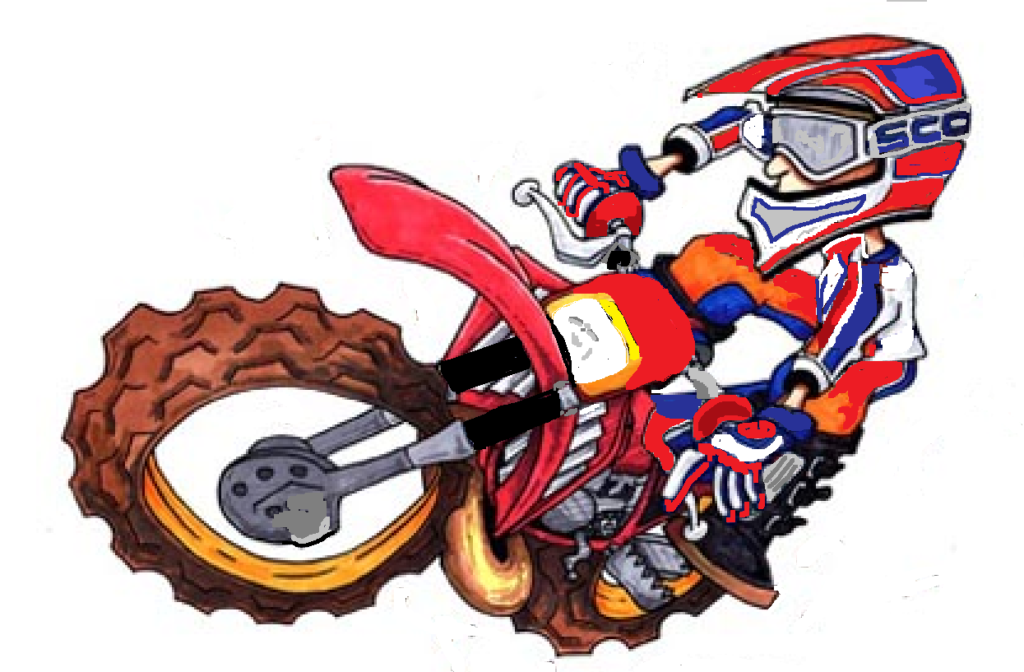 You can camp in your tent the Club will portage or stay in the large open room lodge at Songdog Ranch, on your own cot or a supplied sleeping pad for an additional $20 Dollars. (Limited availability). The club will portage your gear, tent, sleeping bag, bed roll, etc.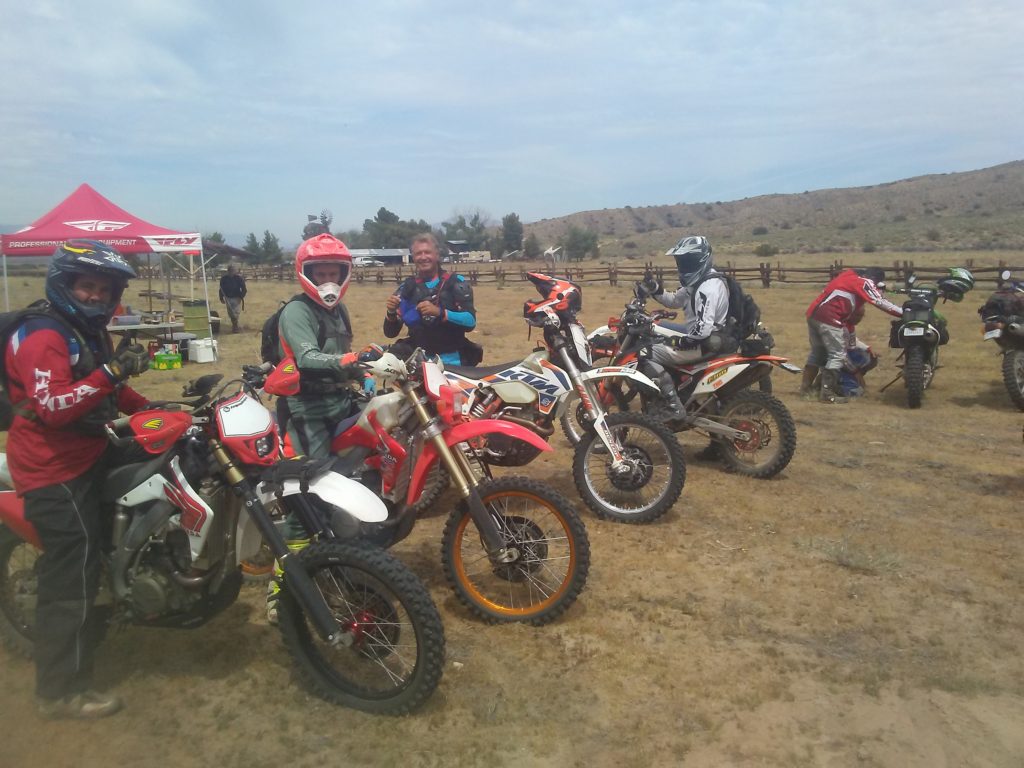 Know Before You Go:
This is a remote area with minimal facilities available
There is no drinking water available on the Carrizo Plain
Water, a cold shower and non-flush tiolets are at Songdog ranch

Gas is available in Maricopa and Santa Margarita; be sure to start your trip with a full tank of gasoline.
The only fuel at Ballinger Canyon is Fuel supplied by the club.
Cell phone service is not available throughout the entire Carrizo Plain
Please see this Link on Navigation & Safety.

Overview:
The Carrizo Plain is traversed by the San Andreas Fault.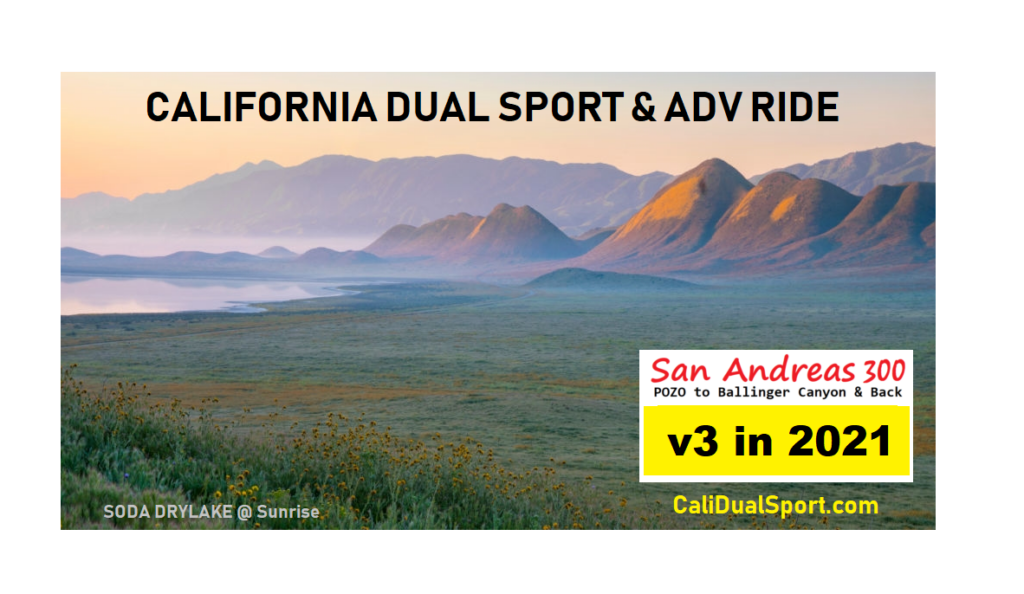 The San Andreas Fault provides spectacular topography along the eastern edge of the California Valley. Ridges rise sharply from the plain to form the Panorama and Elkhorn Hills and Hurricane Ridge. Temporary pools and salt-encrusted ponds appear along the fault, trapping rainwater to create stunning scenery.
Soda Lake covers an area of about 3,000 acres and is one of the most dominant geographic features of the Carrizo Plain. As a result of evaporating mineral-laden surface water, a crust has formed in the lake, creating a glistening white bed of salt that has become a famous attraction for the Carrizo Valley.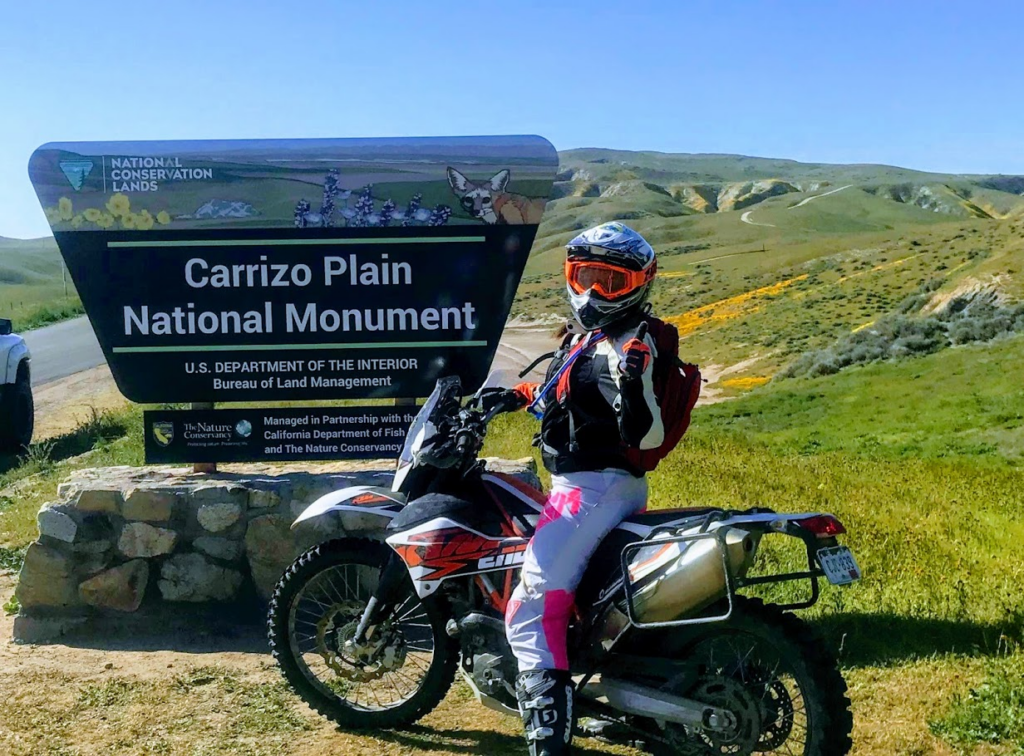 Adjacent to the southwest edge of the San Joaquin Valley, the Carrizo Plain National Monument is a 250,000-acre oasis as well as a diverse complex of habitats for many rare species of plants and animals
There are seasonal recreational opportunities for visitors, many of them focused on the plain's abundant birds and wildflowers. Scenic drives are popular activities for visitors in the National Monument.
ADDITIONAL RIDE INFORMATION
Q: HOW DO I NAVIGATE THE ROUTE? This is not a guided tour, you will navigate by GPS tracks. Maps that are not suitable for navigation but to give you a general idea of the route will be emailed. There will be NO course markings.
Maps are not suitable for navigation. You must have GPS unit or cell phone to navigate the course. Or ride with a friend  who has GPS and understands how it works.
WE WORK TO MINIMIZE PAVEMENT MILEAGE, maximize scenery and fun, and generally only use paved roads as necessary to tie dirt loops together and access amenities.
Hazards Do Exist on our routes, such as downed trees, washouts, rocks, etc. and will NOT be marked in any fashion.  All routes are publicly-accessible, so you may encounter other riders and traffic. Riders need to use caution and common sense at all times and stay to the right when possible, particularly around blind turns. Remember vehicles heading uphill have the right-of-way.
Use the buddy system:
We discourage you from riding alone and encourage everyone to use the buddy system and pair up with at least one other rider so that you can look after each other. Your ride will be enhanced if you ride with others who are of the same skill level, are riding similar motorcycles, and have compatible desires for the ride (speed of travel, how often to stop for a rest and pictures, etc.).  We won't have any checkpoints throughout the day or sweep riders to keep track of you.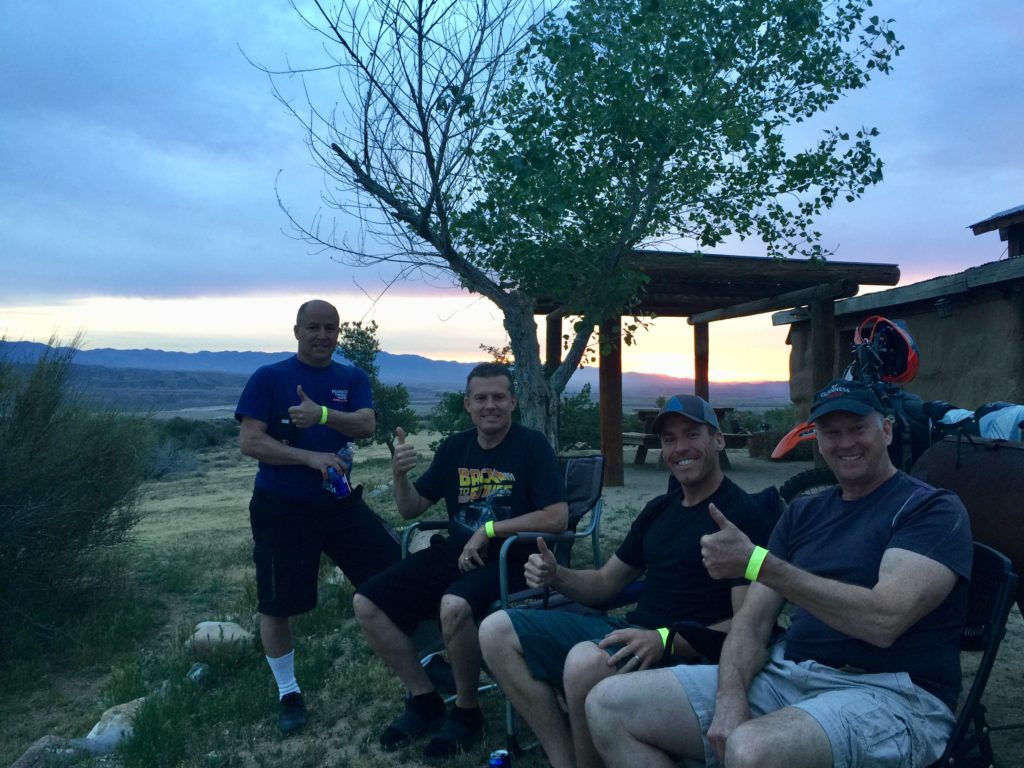 We will provide "Outriders" to help you if you need a shortcut to the finish or have questions along the way, but they should NOT be considered "sweep" riders: they are not medics, will not be available to fix bikes or change flats, nor will they have extra parts. Our "Outriders" will have Satellite communication.
Carry a cell phone and we highly recommend the use of a satellite-operated tracking and rescue device such as a SPOT as you will often be out of cell phone range. There is no cell phone service in the Carizzo Plains Valley.
If you get stranded we will of course do whatever we can to bail you out. However if we need to arrange evacuation, medical aid, or any other form of rescue assistance for you, there may be a charge associated with that assistance.
There may be a course photographer in a strategic place each day to take your picture and provide photos for you online after the event.
DISCLAIMER
Most USFS and BLM Motor Vehicle Use Maps are outdated, inaccurate, ambiguous and difficult to read even for the rangers. But especially for the general public.
Even in designated riding areas, USFS and BLM route signs are often missing, non-existent, outdated, misplaced and confusing.  In many areas private property boundaries are not well defined or even posted.
It is possible that anyone following an Exit Tours Motorcycle Club route could get behind closed gates or ride somewhere they are not supposed to be and possibly get cited or yelled at.
Every Exit Tours M/C member is advised of this in advance of our rides, and by participating takes full and sole responsibility for their actions and well-being, without exception. Exit Tours Motorcycle Club membership is included with sign-up.
Exit Tours Motorcycle Club rides are not competitions, nor are prizes or trophies awarded. All participants are on their own, riding at their own pace, at their own risk, and always have the option to follow the designated route or to follow another route of their choosing. Exit Tours M/C rides are non-competitive, non-commercial, paying for the amenities with the ride and not for the ride itself. These are recreational club rides for members only.
This Dual Sport & ADV ride is for club members.  Ride starts and finishes on Private property. Amenities are provided, such as meals, fuel, parking-meeting arrangements and camping.
A portion of any profits will be distributed to the Blue Ribbon Coalition.

DETAILED RIDE INFORMATION
The SA 300 is a 2 Day Dual Sport & ADV Ride in a Scenic Remote Slice of California Few People Venture Into
This Dual Sport & ADV Ride is Limited to 75 riders, so as to keep within USFS guidelines. Limiting participants keeps the groups manageable. We can all have a more enjoyable experience without a large crowd.

We recommend leaving early and keeping stops to a minimum. You leave when you wish, ride at your own pace and we do not ride in large groups.
We also highly recommend you come with a friend and be responsible for each other throughout the day.
RIDE & EVENT OVERVIEW
This Dual Sport & ADV ride is a, "low-key, high adventure, no hassle" self-guided tour, using a GPS tracks or a roll chart to navigate an unmarked route. GPS tracks will be emailed 2 weeks before ride.
Sign-in and park your truck on private property near Turkey Flats in Pozo on Friday afternoon or Saturday morning.
Dinner at the Pozo Saloon is included Friday evening. (Alcohol not included at the Saloon)

Camp Friday night in Pozo at the private ranch if you wish or arrive in Pozo by 8 am and be on the trail by 9 am Saturday.
There will be 1 fuel stop each day where club will provide fuel and lunch on Saturday and Sunday (Fuel stop at approx. 104 and 195 miles)
ADV Riders please get fuel on your own in Maricopa around 120 miles on Saturday before arriving at Songdog Ranch at around 200 miles at Songdog Ranch.

The Club will portage your camping gear to the Songdog Ranch for Saturday night.  Bring your sleeping bag, cot or pad, a chair, overnight bag and tent (Pack as much as you can into your gear bag). No large ice chests. Adult beverages will be provided.
Your motorcycle must have a USFS approved spark arrestor and excessive noise is a BIG issue, as it is used to limit our right to ride.
At sign-in you will be required to sign a liability release form. You will receive your ride packet, T-Shirt, Etc at Sign-in.
Day 1
Show up with a full tank of fuel Saturday morning. Remote lunch & gas stop at around 104 miles on the Dual Sport loop (Beverages & lunch provided).
Then a Loop of Ballinger Canyon before returning to Songdog Ranch.
ADV loop lunch will be approx. 200 miles to Song Dog Ranch.
ADV loop after Lunch will be a short challenging ride in Ballinger Canyon.

Riders meeting at 7 & 8 AM Sat-Monday. You only need attend 1 meeting each day.
Breakfast burritos and coffee Saturday morning
Fuel and lunch stop is at Songdog Ranch both days.

Dual Sport ride 45 miles total Saturday after fuel stop / 35 miles of Ballinger Canyon trails
BBQ & beverages Saturday night
Sleep on your own cot in the lodge if you don't wish to tent camp at Songdog Ranch (Limited availability, $20 on sign-up form.)
Day 2
Sunday riders meeting at 7 & 8 AM
Breakfast Sunday morning at Songdog Ranch
100+ miles back to Pozo after the morning loop
45 mile morning loop back to Songdog Ranch for lunch & gas stop (Beverages & Lunch provided)
Dual Sport morning loop is challenging Singletrack
ADV morning loop is fun 2 track.
You must be able to cover 105 miles on a tank or carry extra fuel with you.
After ride BBQ and beverages in Pozo Sunday afternoon at the private ranch.

If you have to ask if you can ride your motorcycle over some mountain 4×4 pass's and survive, you probably don't have the knowledge or skills to do it.
People who can do it safely already have informed themselves based on past experience and are confident enough in their skills and machinery that they don't have to ask.
If you have to ask, don't do it, even if you have ridden all of the toughest trails in Iowa…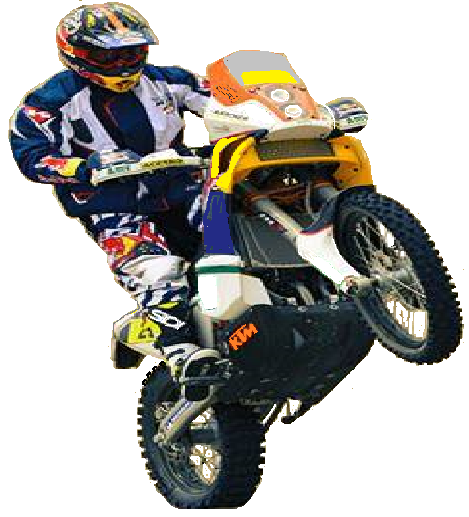 Q: WHO IS INVITED?
Any capable rider with a street legal Dual Sport or ADV motorcycle.
Q: DO I HAVE TO BE A CLUB MEMBER?
Yes. Club membership is included with your entry. There is no qualifying or probation period to become an Exit Tours Motorcycle Club member and there are no required meetings or work days associated with your membership — just Sign-Up and ride!