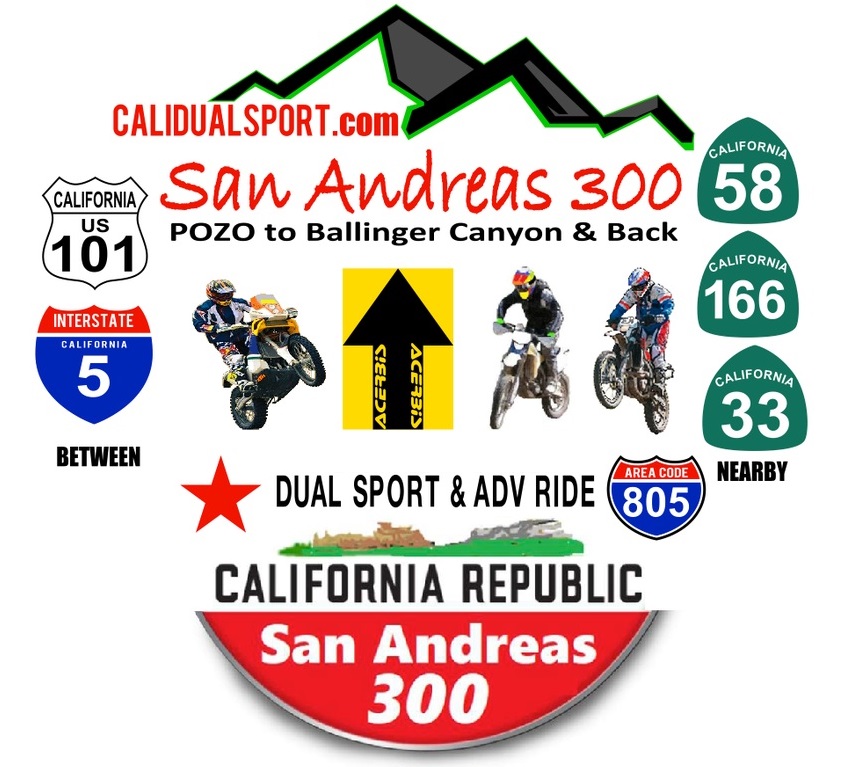 FREQUENTLY ASKED QUESTIONS (FAQ)
BASIC RIDE DETAILS:
300 miles in 2 Days
The Club will portage your camping gear and fuel and supply meals and beverages.
Friday Sign-in at the Ranch, set up camp and . Meet, Park, Camp and Stage on Private Property near the start of the old Hi-Mountain Enduro.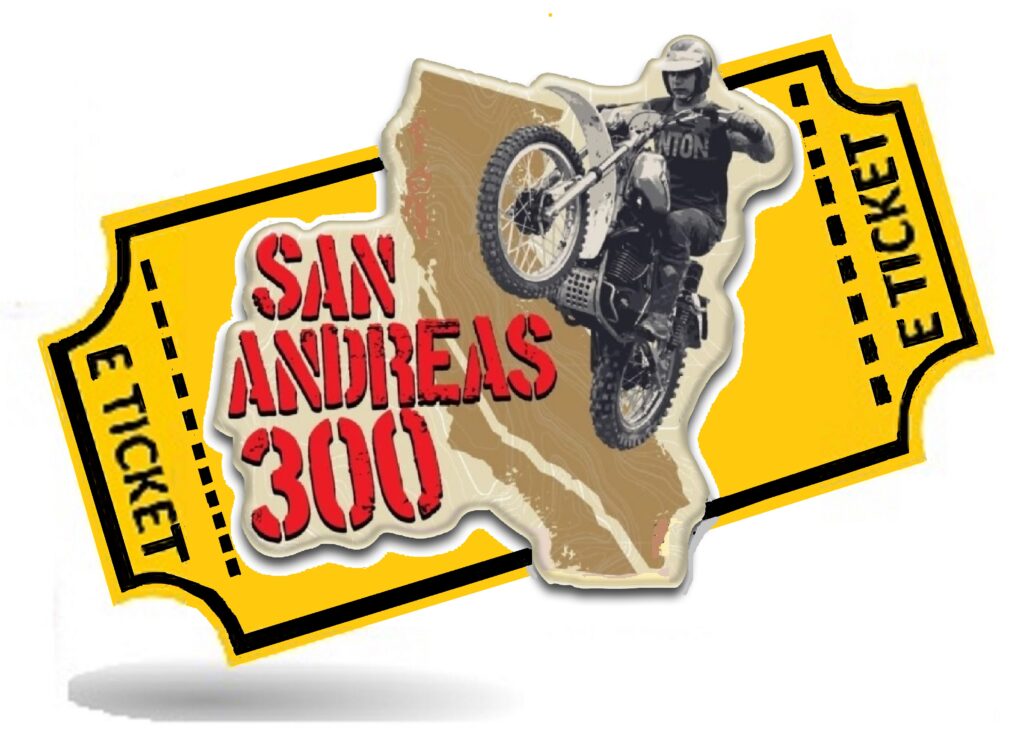 Ride with GPS Club Membership is included with Exit Tours MC Membership.
Tracks will be emailed.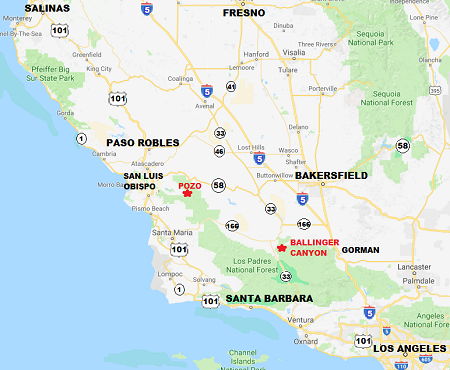 DIRECTIONS: Pozo is Located 25 miles East of Hwy 101 from Santa Margarita in San Luis Obispo County.
Ballinger Canyon is Located on the San Luis Obispo, Kern and Santa Barbara County lines. At Hwy's 166 & 33.
Exact location of start & finish on private property will be emailed after you Sign-Up.
Google Map Link to the general area
FREQUENTLY ASKED QUESTIONS (FAQ)
The San Andreas 300 is a 2 Day Club Dual Sport ride that is a 300 + mile / long non-competitive ride that consists of as much dirt and the least amount of pavement as possible and only uses paved roads to tie sections and amenities together. Overnight camping, gear & fuel portage, meals and beverages are included.
The SA 300 will start near the site of the old Hi- Mountain Enduro in Pozo and complete Day 1 at the site of the past Leapin' Lizard Enduro in Ballinger Canyon. Ride back to the ranch in Pozo a different way on Day 2.
We suggest dirt orientated dual sport motorcycles or plated dirt bikes for the Dual Sport loops. For the ADV Loops any Adventure motorcycle will work.
Any motorcycle event comes down to the rider's skill level and the type of tires installed. If you have the wrong tires your skill level won't really matter, you'll struggle regardless. Starting with a new front knobby and a hybrid DOT rear tire is a highly suggested.
Your motorcycle must have a USFS approved spark arrestor and excessive noise is a BIG issue as it is used to limit our right to ride.
You should have current liability for your motorcycle, medical insurance coverage and be licensed to operate your motorcycle. We reserve the right to inspect any Motorcycles. It is the rider's responsibility to meet these requirements.
Q: WHAT DO I NEED TO GET STARTED?
A sense of adventure and common sense.
Q: WHO IS INVITED:
Any capable rider with a street legal Dirt Bike, Dual Sport or ADV Motorcycle. Online Sign-Up only.
By capable we mean anyone with the skills and attitude to ride Challenging off-road sections.
Q: DO I HAVE TO BE A CLUB MEMBER?
Yes. Membership is included with your entry.
Q: WHAT:
Overnight Club Dual Sport Motorcycle ride from Pozo to Ballinger and Back to Pozo. Additional Loops available on Monday.
Q: WHEN:
May 3-6 2024
Q: WHERE:
The Ride starts on private property near the Start of the old Hi-Mountain Enduro area in Pozo. Directions to the start and camping location will be emailed with Sign-Up confirmation. Secure parking.
Q: HOW FAR IS THE DRIVE TO POZO?
Pozo is located in South Central California 1 hour east of San Luis Obispo. Approximately 4.5 hours Northwest of Los Angeles. 2.5 Hours West of Bakersfield. 3.5 hours South from Salinas.
Q: WHAT IS THE COST OF CLUB MEMBERSHIP FOR THE SAN ANDREAS 300?
$450.00:
Q: WHAT IS INCLUDED:
The San Andreas 300 Club Ride is included with Club Membership.
Ride with GPS Membership & Tracks are included.
Camping included Friday on private property at the Sign-In location.
Secure truck parking behind closed gates until you return Sunday afternoon.
Beverages at the Ranch Friday afternoon or evening.
There will be a Benchracing session Friday night at the Ranch around the bonfire.
BYOB & Bring a chair.

GPS Tracks and maps will be emailed.
Breakfast burritos will be available Saturday morning along with free coffee.
Lunch and your fuel will be portaged to Ballinger Canyon Saturday & Sunday.
Gear & Fuel portage.
Starlink Wi-Fi so you can stay connected.
Saturday night camp at a private ranch. Bonfire, BBQ & Adult Beverages included.
Breakfast Sunday morning.
Snacks. Participant pin. T-Shirt.
After Ride BBQ & beverages at the finish on Sunday.
Local support.
300+ mile 2 Day Dual Sport ride you can't follow on a map.
Various loop suggestions to ride on Monday.
Discount on 2nd and subsequent rides with Exit Tours MC in 2024
Q: WHEN DO THINGS START?
Sign-in opens at the Ranch at one pm on Friday. Sign the release, pick up your Rider Packet. Go for a nightride in Pozo ?
We have bonfire on Friday evening at the Ranch. You can camp Friday if you wish or show up Saturday Morning by 7 AM.
Mandatory riders meeting at 7 and 8 am Saturday. You only need attend one meeting. The Club will supply porta-potties and a hand washing station at the start and finish of the ride and at the fuel & lunch stop.
Q: WHAT TYPE OF MOTORCYCLE SHOULD I RIDE?
Factory off road orientated Dual Sport and plated Off-Road motorcycles will work best. You should have current registration for your bike, proof of insurance, and a California OHV Sticker.
ADV Bikes will work on the ADV Loops. Skilled Riders could navigate the Dual Sport loops on an ADV Bike. A few portions of Ballinger and in Pozo you may want to avoid on an ADV Motorcycle.
Q: HOW WILL GEAR AND FUEL BE PORTAGED?
The Club will have 3 trailers. A flatbed with short sides for fuel, a trailer with taller open sides for Camping gear and an enclosed trailer if you choose to sleep in the Lodge.
Put your 5 Gallon Gas can with your name on it next to the flatbed.
If your camping in a Numbered spot, put your camp spot number on a piece of Duct Tape tapped to your gear bag(s) in the higher sided trailer and we will drop off and pick up your camping gear at each numbered spot.
If your bootleg camping on the Mesa, put your gear near the enclosed trailer and we will transport and drop off your bag at the Parc Ferme.
Bootleg camping is Pitch your tent where you wish on the Mesa at the Ranch in Ballinger at no additional cost.
Q: HOW DOES THE GEAR PORTAGE WORK?
The club will portage your camping and overnight gear in an enclosed trailer or an Open trailer from Saturday morning, park the trailer Saturday evening and then portage your gear back to Pozo Sunday afternoon.
If your group has rented a a covered Picnic table, camping area and fire ring, put the number of that spot on a piece of duct tape on your camping gear and the club will drop off and pick up your overnight gear at your camping spot.
Small tents, cots, sleeping pads, sleeping bags, folding chair, overnight bag, small 6 pack size Ice chest will all be transported.
One thought was to put all your camping gear in your gear bag since you will be wearing your gear and you would then have your gear bag to store the gear once you arrive at the Ranch. And your gear bag keeps all your camping gear in one place ? You are responsible for getting your gear to the trailer Saturday & Sunday morning.
If you paid for a campsite, the club will pick up and drop off your gear at said campsite
How much gear do you really need to Camp overnight ?
Q: HOW LONG IS EACH DAY'S RIDE?
Day 1 is approx. 150 miles total. The loop will include a few trails in Pozo and Ballinger Canyon.
It is around 115 miles on the 'A' Loop to Ballinger. Bailout available after lunch. Lunch and beverages at the fuel stop are included with your entry.
After Lunch on Saturday there are Loops of Ballinger for you to choose from.
Day 2 loop is morning loops are from 25 to 50 miles and approximately 100 miles with short pavement sections connectors and several bail outs available back to Pozo.
Ride a morning loop of your choice of anywhere from 25 to 50 miles. These morning loops can include some challenging sections.
A sack lunch you can take on the trail and beverages at the fuel stop in the late morning are included with your entry.
Q: FUEL RANGE AND FUEL STOPS?
Approximately 100 miles between fuel stops. 105 mile fuel range recommended. Day 1 emergency fuel will be available @ around 98 miles .
You will ride 20-30 miles after Lunch on Day 1 back to the overnight stop.
Then approx 45 miles in the morning on Day 2 to the fuel stop and a sack lunch.
Day 2 we will have a Fuel stop at lunch. The club will portage your 5 gallon gas can which should have your name on it and be at the same location both days.
The idea being Fuel up when you arrive at the Ranch in Ballinger Saturday afternoon, and fuel up again after the morning loop before returning to Pozo.
Q: WHAT'S THE WEATHER LIKE IN LATE SPRING?
Early May is probably the nicest time of year on the Carrizo Plain. While things may be starting to warm up, the wildflowers could be blooming and it could still be green in this part of California in early May.
Daytime temperatures are in the high 70's, low 80's and nights usually in the low 50's. The stars and constellations at the Ranch are epic in May.
Q: HOW DOES CAMPING WORK FRIDAY AND SATURDAY?
Friday and Sunday we will be camping at a private ranch near the start of the old Hi-Mountain Enduro in Pozo. You can either tent camp, camp in your truck or park an RV or trailer on the property. The Ranch will be secured until we return Sunday evening. There is potable water but no RV Hookups. The private property in Pozo has huge Oak trees around the perimeter and there is plenty of room for everyone to spread out. The Ranch in Pozo is secure.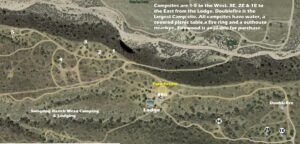 Camping Layout on Saturday Night in Ballinger Canyon (clickable)
Saturday at the Private Ranch in Ballinger Canyon there are 9 camp spots with covered picnic tables on the Mesa. Each has potable water and an area large enough for 4-8 guys. This year you can reserve a Covered picnic table and fire pit for a fee. Only one guy in each group need to pay to reserve a camping spot.
If you would like a campfire, you will need to purchase some firewood on the Sign-Up page. No scrounging for firewood is allowed on the Mesa.
Campsites are numbered 1-5 to the West and 3E, 2E and 1E East from the lodge. Double fire is the largest Campspot and the furthest East. Clean Outhouses are located near each camping spot.
You can also bootleg and pitch your tent on the Mesa near the lodge for no additional fee.
There is also a included Open Bar with a bartender that will be Open from 4pm until 9PM serving adult beverages.
The Private Ranch is not a dude ranch, nor some ritzy retreat.
The only things ever raised here is wine or beers in the light of campfires.
Q: WHERE DO WE PARK IN BALLINGER CANYON ?
In order to use the private ranch in Ballinger, we cannot ride on the Mesa. You can ride up to the Mesa and the Lodge, ride on the roads tocheck out your campsite, then return and park your motorcycle in the Parc Ferme near the BBQ area. Your Gas can and an EZ Up will be in the Parc Ferme. Along with a spot to work on your motorcycle or lube your chain. We will also have Air for tires.
Riders Meetings will be near the Parc Ferme and the BBQ Pit Sunday morning.
Q: WHY ARE YOU GUYS DOING THIS?
This is an Epic Ride you cannot do on your own, The time seems right before we're all too old to pull something like this off.
Pozo and Ballinger Canyon both had legitimate Enduros back in the day and offer some fun, challenging trails. The route from Pozo to Ballinger along the San Andreas Fault is little ridden and includes epic dirt roads, 2 track , few whoops and spectacular scenery. The principles putting on this ride used to put on the Leapin' Lizard Enduro and Rode the Hi-Mtn Enduro for years.
Q: HOW SHOULD I SET UP MY MOTORCYCLE?
Well, there are a few rocks. We would recommend a new knobby front and a DOT rear tire, checking your air pressure once you arrive, and running it a little higher than normal. Or run a mousse. Skid plate. Hand guards. Distance between gas stops is expected to be around 105 miles.
Q: HOW CAN I GET TO THE START?
You can tent camp or stay in an RV at the Sign-In property Friday, stay at a hotel in Atascadero and drive your truck and trailer to the start and unload there Saturday morning and leave your truck or trailer behind a fence at the property.
Q: WHATS FOR BREAKFAST ?
Saturday we will have breakfast burritos and free coffee. Sunday we will have an excellent pancake & sausage breakfast and free coffee. Portia-potties and hand-washing stations onsite.
Q: WHAT HAPPENS AT THE 1st DAY's FINISH?
Please check-in when you finish, so we know you are in.
Get your tent or sleeping spot set up. Grab some BBQ and fixin's, come and hang out, enjoy the bonfire, an adult beverage and the camaraderie of like-minded enthusiasts.
Get ready to go back out the next morning.
Q: WHAT ABOUT THE 2ND DAY START & FINISH?
We will meet for Breakfast and have a riders meeting at 7 am and at 8 am on Sunday morning. Free Coffee will be available with porta-potties and hand washing stations onsite.
Please check-in on the sign-out sheet before you leave and check back-in when you finish.
Please make sure to check-out/sign-out at the finish on Sunday.
BBQ & adult beverages included after the ride in Pozo.
Q: HOW DO I NAVIGATE THE ROUTE?
This is not a guided tour. You Navigate by following phone compatible GPS Tracks . There will be NO course markings. Ride with GPS Tracks will be emailed. GPX tracks are included with each route.
Maps are not suitable for navigation.
Q: WHAT IS THE BUDDY SYSTEM?
It is what can save your life! If you were riding alone and got off the route and then got hurt, you may not be missed until the end of the day. For this reason we must insist that riders use the buddy system. Obviously 2 (or 3) riders that enter together will be buddies (4 or more should split into pairs). We do not suggest riding in large groups. Team up with no more than 5 others and watch out for each other.
BUDDY RIDING PROTOCOL –
• Don't lose sight of your buddy
• Don't make a major turn unless you know your buddy will also
• If buddies get separated, both go back to the last place they saw each other
Q: WHAT IF I ENTER ALONE?
We prefer that you enter with at least one friend but if you do come alone, you should pair with another rider as your buddy. Buddies may be changed after the 1st day if not well matched. We will have a sign up sheet at Sign-In where you can write your cell number if you haven't found a buddy before the ride.
Q: WHAT ABOUT SPARE PARTS?
You should bring a reasonable amount of spare parts (like a pre-oiled air filter). We will have spare front and rear tires and tubes for sale in case someone destroys one, but most people should be able to complete the ride without changing tires.
Q: DO I NEED ANY SPECIAL EQUIPMENT?
You should carry current registration and proof of insurance. A GPS UNIT of some description. Ride with GPS tracks are Cell phone compatible. Even off-line. You will need a way to Charge your phone while riding and a Phone mount.
SEE THIS LINK: Navigation & Safety
Q: WHO SERVICES MY BIKE?
You must be able to fix your own flats on the trail and service your bike at the end of the day. Each rider should carry a spare tube (front works in rear); tire irons, hand pump, and/or air bottles. You must be able to fix your bike on the trail or be towed by your buddy to a highway where you can be picked up. You should be able to tow your buddy if he cannot fix his bike. Every rider should carry a tow strap. There will be a chase truck if your motorcycle breaks.
Q: WHERE WILL I GET GAS and WHAT ELSE DO I NEED TO KNOW?
Day 1 will have 1 fuel stop available. The club will portage your fuel in a 5 gallon gas can.
If you are riding a 2 stroke you will need to bring your own oil or Pre-Mix your fuel.
Day 2 the gas stop will be earlier in the ride but in the same location as Day 1.
Both Saturday's & Sundays lunch & fuel stop will be in the same place with the food, beverages, water and snacks.
Bring cash to tip the Bartender Saturday Night